About Didcot Calor and Paving Centre
How it all started
Some years ago we started to distribute Calor gas in the area from Rich's Sidings, Didcot. Over the years, our distribution has grown to cover a vast area; from Faringdon to Henley-on-Thames, and from Bicester to Newbury, not to mention everything in-between, and we are now Calor Gas's only Principal Dealer in Oxfordshire.
We still run the business on a day to day basis, and Didcot Calor and Paving Centre Ltd remains a family-run business and although it has grown in size over the years, with many more staff and delivery vehicles, you will still find that old-fashioned service. We provide a very personal and professional service to our customers and through our extensive knowledge of the products we stock are able to offer guidance and advice.
From Calor Gas to just about everything...!
We soon increased our range of products to include Air Products industrial gases, paving slabs, sand, cement and aggregates. Today, if you visit our yard in Rich's Sidings, Didcot, you can see a comprehensive range of natural stone paving, walling, stones, gravel, fencing, trellises, water features, playpit sand, garden compost and bark. In other words, pretty much everything you might need to make your garden as beautiful as it should be.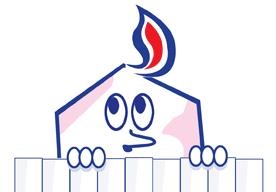 You can be confident that you are dealing with a company that stocks only the best products manufactured by quality suppliers. If you have any questions about any of our products or services, please contact us direct or use our enquiry form.
Thank you for shopping with us!
Bill and Andrew Lee
« back to home page